Occupational safety course in class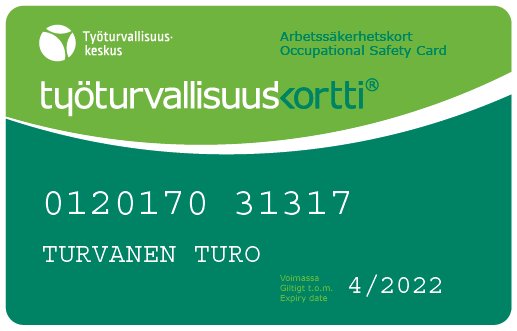 Learning for the "Työturvallisuuskortti" green card in our classroom. Online learning lasts 8 hours, as 1 working day.
To participate in learning, You must register for the course and come to us. Late arrivals are not allowed.
After registration:
we will send You an email with confirmation that You have registered for the course and paid it.
come to the course on the appointed day. Please, do not be late.
During learning:
course lasts 8 hours, as 1 working day.
during the course there are several short breaks and one lunch break.
After learning completion:
after the theoretical part of the learning, at 15.30, You will write the test on paper.
your test's results will be available on the same day.
after successful test passing, on the same day, You will receive a temporary certificate of learning completion. It is valid for one month.
we will send Your "Työturvallisuuskortti" card within 3 weeks after the course to your address.
Good luck and welcome to our course!