Safety at electrical work SFS 6002 online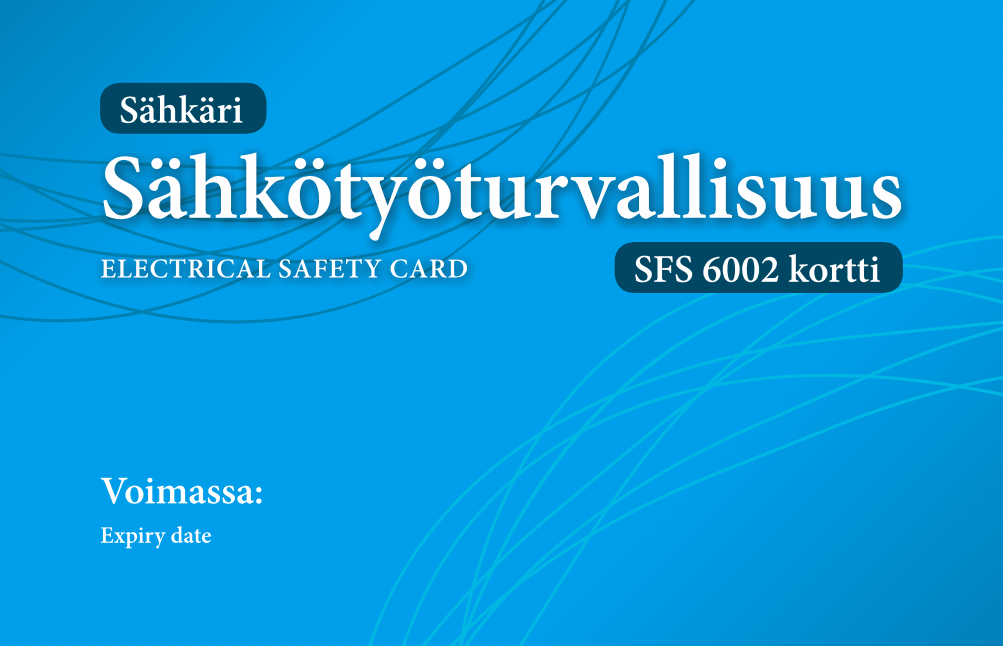 «SÄHKÄRI SFS 6002»
The course is intended for persons who work in the maintenance and service of electrical installations, machines and equipment of under 1,000 V.
Form of study: according to your schedule, 24/7 - start now or later.
English language
Duration: 4 hours - you can take breaks and continue later
Certificate of completion of the course: in PDF format immediately, the card will be sent by mail.
Payment: electronically through a bank, by credit cards
Content of the course based on SFS 6002:15 «Safety at electrical work» and EN 50110 standards, which comply with the electrical safety law requirements 1135/2016.
You must pass this course if You are:
an electrician and manager, also everyone if Your work related to:
work management
operational activities
designing
professional electrical workers in teaching and other special positions
Also the course is suitable for designers, field of automatization and measuring instruments workerks, for electrical engineering students.
The course is also carried out as a general part of the fulfillment of the obligation of the organization of training to supervise and instruct the employee in the field of electrical engineering in accordance with Section 14 of the Occupational Safety Act (738/2002), which is the responsibility of the employer.
The completed course is valid for 5 years. Upon completion of the course, a Sähkäri SFS 6002 electrical safety card is issued.
When You complete the course, You will receive Safety at electrical work card (Sähkäri SFS 6002).